Ron Czeiger
After finishing a Professional Writing degree in Canberra, Ron's ambition was to become a motorcycle journalist working at Two Wheels magazine. But the rise of the internet was slowly putting an end to in-house positions in print media, so in the year 2000 he took this as a good opportunity to get his hands dirty on the technical side of motorbikes.
His introduction to the industry began in 2000 at a small workshop in Artarmon, where he was part of a pit crew for a privateer team in the 6 Hour Endurance Race at Eastern Creek. After half a year he moved to the city branch of Action Motorcycles where his repertoire expanded to accommodate larger capacity sportsbikes. Circumstances led him to help his father build a house in Bowral while he worked at Bowral Motorcycles.
Finally, a fellow TAFE student introduced him to the manager of the world renowned Ducati specialist, Gowanlochs Motorcycle Engineering. This position gave him another opportunity to go back to the track, where he spent his weekends spannering for the second place winner in the Formula Extreme Pro-Twins class of 2003, Mike Soderland on an Aprilia RSV Mille. After three years concentrating on engine rebuilds and performance modifications, he completed his apprenticeship.
He graduated at the top of his class at TAFE and was among the top five in NSW, earning him a Trade Certificate with Distinction in the field of Light Automotive (Motorcycle Mechanic). For his efforts, the Institute of Automotive Engineering presented him with a shield for outstanding achievement in 2004, He was also awarded for the "Most Outstanding Apprentice" by the Motor Vehicle Repair Industry Authority.
Establishing Flywheels Motorcycles in 2005, the company quickly earned a reputation for being the place to take your bike to enhance its performance and appearance. For 2006, Ron was asked to return to TAFE in a teaching role, where his love of educating motorcycle apprentices began.
From 2006 to 2011, known as the "tech-time Guru" Ron had a permanent column in the popular bikey mag "Rapidbikes", addressing readers' questions and comments about everything related to motorbike maintenance and performance. And he often featured in the new model release test reviews alongside GP legends like Wayne Gardner and Kevin Magee.
In 2007, the business grew to incorporate an exclusive Kawasaki dealership. Shortly after, in 2008, it was awarded the Motorcycle Dealer of the Year by the Motor Trades Authority. But in 2012, after the fallout of the global financial crisis, it was time to focus on his original passion of fixing bikes, making them better, quicker, and tricker.
Ron refuses to stop learning and gaining qualifications. After completing a 3 year course in 2020, he gained an Advanced Diploma in Mechanical Engineering. His strong academic performance was again recognised when he was nominated for the NSW Awards for Excellence as Student of the Year (Career Pathways, Employability Skills and Higher Education). This qualification will go towards becoming a VSCCS to provide customers with Engineering certificates.
In 2021 Ron was awarded a scholarship to complete a Cert IV in Training and assessment as part of his job offer to return as a part time teacher at TAFE NSW, where he can give back some of his knowledge to the future generations of Motorcycle Technicians.
Get in touch with us today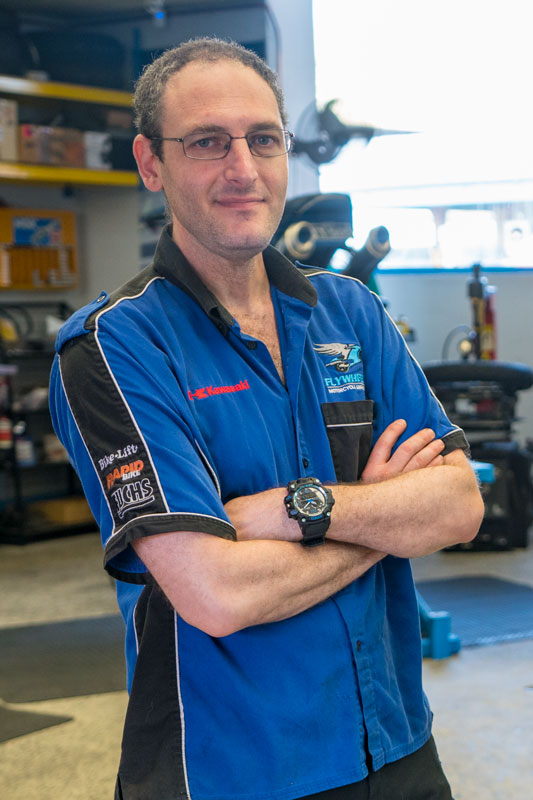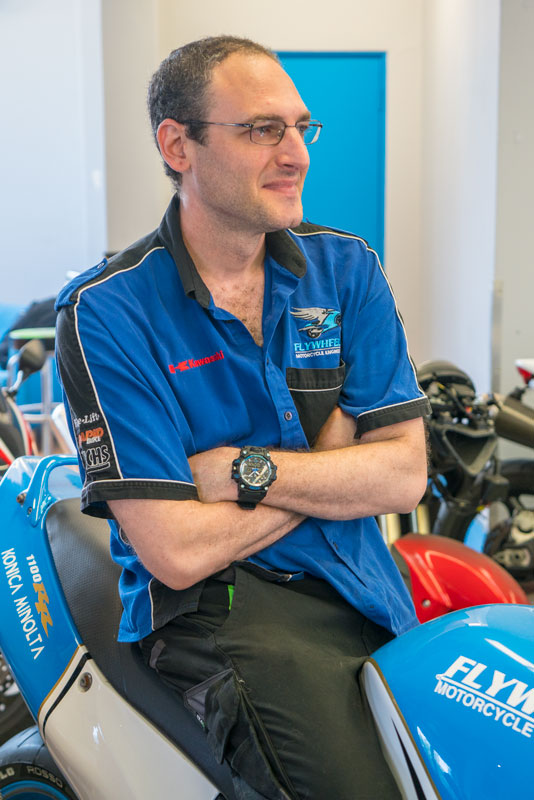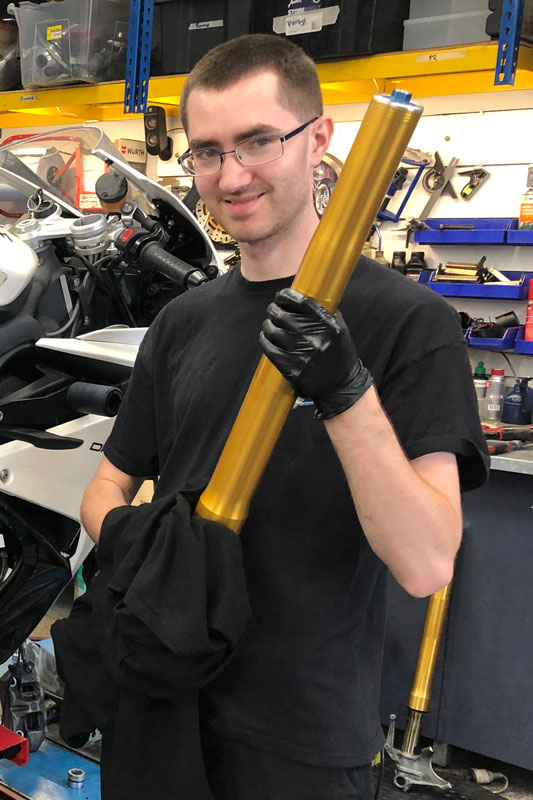 Adrian Link
Sydney born, Adrian was lucky enough to spend most of his youth in Robertson in the southern highlands. After leaving school he decided to enter a career in information technology. There he was introduced to a customer service lifestyle and assisting people to fix problems. One day his father bought a Yamaha FZR250 and the seed was planted. Seeing the little fazer sitting in the garage and spending $40 per week in train fares, Adrian decided to buy his first bike in 2013 to use as a commuter. The omnipresent Ninja250 was the victim. And after a short while, his love of riding, and bikes in general, blossomed.
Then began the tinkering bug, and the Kawasaki represented a clean slate. Rim tape, adjustable levers, LED light strips, braided brake lines and much more all went in to improving the bike. But being used as a commuter and putting high kilometers on it, problems arose. The starter motor packed it in and the chain and sprockets wore out. So he thought he'd try his hand in rectifying these issue.
It wasn't easy for the novice, but he thoroughly enjoyed the experience. So much so that it led him to take the step for a career change from the phones to the tools. He applied to a few shops but was unable to find an open position. So he took it upon himself to gain a Cert II in Light Automotive while he continued the search. Finally, in 2017, he landed at Procycles in St.Peters.
Here he was given access to new and old BMWs, KTM, Suzukis, Husqvarnas and even the electric Zero. But after a while of working in a large dealership, he decided to search for a smaller, more intimate team environment. Starting in September 2019, Adrian is enjoying the one-to-one tuition, low-stress pace, and the range of bikes and work that is available at the Flywheels HQ.
Currently riding a Suzuki baby Bandit GSF250, he spends his spare time resurrecting his 99 model Yamaha YSF-R6
Adrian takes pride in his work, treats every bike like his own, is extremely thorough, and is already proving himself to be a valuable crew member.
Get in touch with us today
Cody, the Flywheels Mascot
Commonly known as a "mini-Husky", Cody is actually a new breed called the Alaskan Klee Kai. Born in 2015, you'll often find him curled up in his bed beside the reception counter. He's very friendly, affectionate, and extremely intelligent. If he sees you, he'll probably go in for a pat. People come in just to see him and he loves the attention, so feel free to pop around to meet the miniature "wolf-wannabe". And if you bring some treats, he'll be your best mate.
Get in touch with us today